Readers, my apologies for the tardiness of this post, unfortunately with a day job to go too I have neglected my blog. However wanting an escape from the everyday I'm back and hopefully the uniqueness of my car this week makes up for a lack of activity. I give you the Citroen BX Turbo Diesel.
First things first, this weeks car needs some work but as the BX was never sold in Australia the car is so incredibly rare that when I stumbled across it on
Gumtree
I just had to feature it and if your a French car fan at $800 surely it's worth a look.
If you need convincing though, here's some background on the BX, a proper wacky Citroen if ever there was one. The styling for starters takes all that was good with the wedge and mashes it with some truly 80's angles to make a hatchback like none other, look at those rear wheel arches for example, their barely there, the wheels just poke out giving a look akin to a classic american street machine, all low and sleek. Of course the BX also came with Citroen's legendary "magic carpet" like hydropneumatic self leveling suspension so if for some reason you wanted it even lower a flick of a switch could see the BX dropped onto it's bump stops.
With almost 30 different BX model variants produced between 1982 and 1994 it's handy that your choice in Australia is limited to what some loving, emigrating owners decided to import, otherwise you'd get stuck in a mine field of letter and number combinations ranging from BX11, through 19D, TRD Turbo and even GTi. For the record though contemporary press reckoned the BX to have was the 66kw Turbo Diesel, a car that became Britain's best selling diesel in the early 90's due its combination of refinement and power. It could do the 0-100km/h sprint in 11 seconds which at the time was hot hatch territory and totally unheard of for a supposedly dirty, noisy diesel.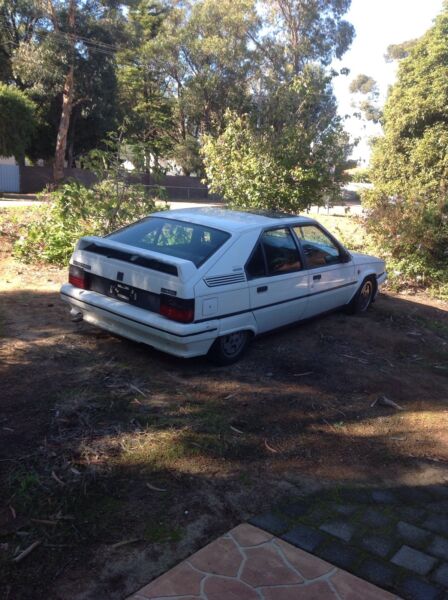 And would you believe it the one and only BX I stumbled across for sale in Australia right now is a desirable turbo diesel with some lovely period alloy wheels. As I said however it is in need of some work. That brilliant engine has done a staggering 480000km and could probably be doing with a rebuild. Another few bits need looking at before it's roadworthy again too like some tyres and a general tidy up. Don't let this BX's rarity put you off restoring it, the Citroen shares it's platform with the Peugeot 405, a car that was actually sold Down Under, meaning parts might not be as hard to come by as you'd think and there is of course the wonder that is Ebay if you need to source bits from overseas, they built over 2 million BX's so the parts are cheaply available in Europe.
Citroen BX Turbo Diesel, $800
I'll be back with next weeks car in a few days, but if you do happen to buy this car let me know, as I'd love it to find an enthusiastic owner.