It seems only right given this weeks impeding Volvo review that my car of the week is something from the companies back catalouge. So this week i'm featuring one of Volvo's most recognisable cars the incredibly slab sided but lovable 940.
Simple but effective
The recipe for the big old Volvo is quite simple; space, safety and not a whole lot else. At the time of its release the company was critisised for not offering more with the 940, Volvo seemed to be playing it safe making yet another boxy car for very sensible people. Critics had to eat there words though, as despite singing from the same hymn sheet as all its predecessors the simplicity and comfort the 940 offered struck a cord with what customers wanted and Volvo shifted over 1.5 million globally between 1990 and 1998.
Whats it like inside?
It was a simple recipe that worked, but lets take a closer look at the ingredients starting with the seating. If you've ever sat in an Ikea Poang chair you'll know that the Swedes can make damn comfy seats. Well a 940's chair soothes you in the same way, you immediately relax into it (driver or passenger side) letting out a breath as you survey the boxy dash and long bonnet that stretch out before. It really is a comforting place to be and feels totally unique compared to rivals from Germany which although comfy lack the air of tranquility a Volvo interior gives you. Once your settled turn the key and the cluster lights up like a Christmas tree, the car checking its systems are all good before you twist that key a little further and the 2.3 litre straight 4 whooshes into life, it's a distinctly Volvo sound.
How does it drive?
I drove a manual 940 that despite its many km's slipped into gear nicely, it pulled away with more trademark whooshing and what surprised me, was a very reactive throttle pedal. The big 2.3 litre motor teamed with a tiny low compression turbo charger produces 121kw which actually makes the 940 quite brisk and lag free for a car of its size. Boost builds on the move making for both easy overtaking and economical cruising on long trips. The suspension is supple and forgiving on even the roughest of surfaces too, a point I can certainly vouch for having driven the 940 in Kenya, a country not famed for it's road building prowess.
I must point out though, don't be fooled by the turbo badge and the brisk progress, the 940 is no sports car, that supple suspension is soft and even with a rear drive layout the big Volvo isn't too keen on corners.Body roll is pronounced and the steering never really gives you confidence to push on in the hunt for an apex. Best to just embrace the comfy chairs and relax your driving style I say.
That boot
The icing on the cake for the 940 though is the space on offer, in wagon form the amount of stuff you can fit inside is staggering, you can literally put a wardrobe in it. For its vintage the 940 is also a safe car, Volvo have long been pioneers when it came to crash protection and the 940's crumple zones and side impact protection show this, however the car does predate modern crash testing and only the driver got the luxury of an airbag.
Who needs a golf buggy? This guy just brought his 940
To conclude
All things considered though if you want a comfy European place to sit, something that can hold a lot of things and move them along at a reasonable pace for very little money you could do far worse than a 940. It might not be a looker but the boxy shape of Volvo's early 90's executive wagon is as iconic as that blue and yellow furniture stores meatballs and lingon berry juice.
Go get yourself one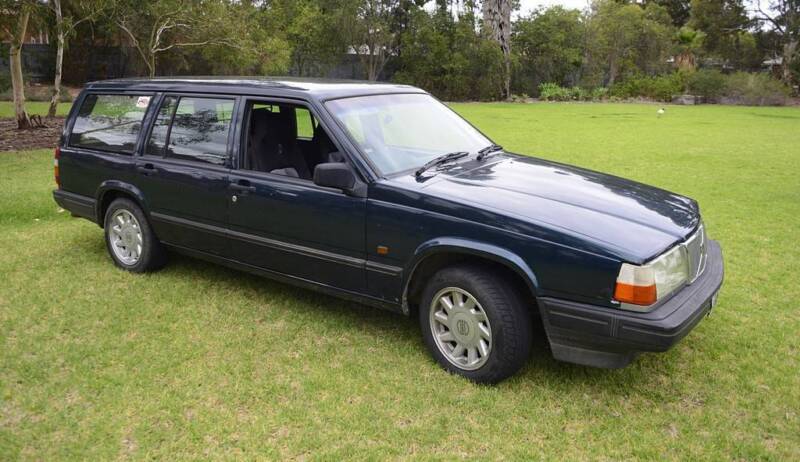 Not the neatest 940 out there but it is mechanically sound, just needs a little tlc to bring it back to its best. New timing belt and head gasket are good things to read, you cant really go wrong for this price.
Photo credit:
australiancar.reviews